All Saints Skills Training Centre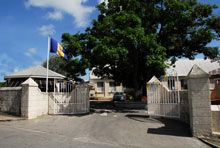 The All Saints Centre is known for its Bar and Restaurant Services, International Cooking and Garment Making programmes. It has modern cooking facilities, as well as a gazebo-styled bar and restaurant and a garment-making room equipped for the training of industrial sewing machine operators.
Location: Mile and a Quarter, St. Peter.
Directions:
From Speightstown:
Turn left onto Church Street, past the Maurice Byer Polyclinic on Station Hill; continue through Ashton Hall into Mile and a Quarter. The centre is easily visible on the right hand side, before the right turn onto Highway 2A.

From Warrens:
Travel along Highway 2A into Mile and a Quarter. Turn left at the T-Junction. Take the first left turn into the centre.

Bus/mini bus to take
Indian Ground
Boscobelle
Mile and a Quarter
Skills Training Courses at this Centre